About Us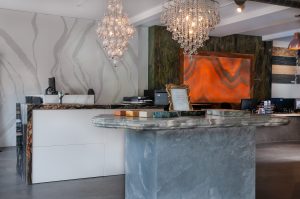 At Marchetti Stone we have over 70 years' experience within the stone industry. We have an unprecedented knowledge of all aspects of the stone and marble industry. Because of this we can source the highest quality products for you at the best prices. We also ensure the very highest level of customer satisfaction by closely monitoring the process of manufacturing, suppling and fitting of your product.
At Marchetti Stone we use nothing but the highest quality stones, such as marble, granite, limestone, onyx, and quartz. These products are all sourced from only the premier world sites, all of which we monitor closely.
We at Marchetti Stone constantly try to offer our customer that little bit more. To do exactly that we have recently introduced a new, exclusive range of marble for kitchen worktops. This has been done specifically to give you, our customers, a greater choice of product when selecting colour with vein. We hope this will help you achieve your ideal conclusion to the kitchen or bathroom project you are undertaking. The Vecchio Range is exclusive to Marchetti Stone and cannot be sourced from any other supplier in the United Kingdom.
As a company Marchetti Stone are always trying to enhance our customers experience. We want to supply an exemplary all round package. We always offer the highest quality stone & marble products. We always try to advise our customers as to what would be the best solution for their project. Once you have made the decisions about that product solution, we ensure we manufacture, produce and fit your product to your total satisfaction. Our best form of marketing is your recommendation.
Before you make the decision about your stone or marble product visit our Showroom in Leigh-on-Sea or pop into the works in Star Lane, Great Wakering, Essex. We guarantee you the best service possible.
At Marchetti Stone we always guarantee a unique, first class finish. You can be assured that your project, undertaken by Marchetti Stone, will be delivered to your total satisfaction.